Services
We can provide :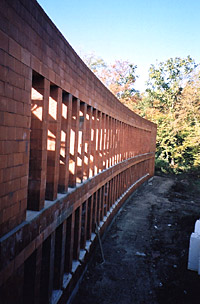 Site visits
Mortar analysis - petrographic or chemical
Colour matching
Advice on materials choices and quantities
Support to specifiers and designers
Recommendation for appropriate training courses
Lime Firms is committed to helping all those working with buildings – be they DIY'ers, builders, specifiers, designers or architects - to address the challenges presented by old and new buildings. The selection of the right materials and the development of appropriate working practices is a matter of great skill. We take a constructive approach to work with all parties to try to bring about a successful outcome.
Consultancy
There is a wealth of information on the use of the materials offered available in books, manufacturer's product information and the internet.
Occasionally it is necessary to discuss problems on site. Sometimes it will be necessary to take samples of mortar or limewash, for example, in order to attempt to replicate existing renders or finishes. We are able to visit sites by arrangement and to make suggestions about materials or construction techniques.
When it comes to the use of novel or experimental approaches, on-site advice is often fundamentally important to achieve success.